LiNing Way of Wade 10 – The First Pick -魁星点斗 – Men's Basketball Shoes are light-weight and high-rebound middle top professional basketball sneakers.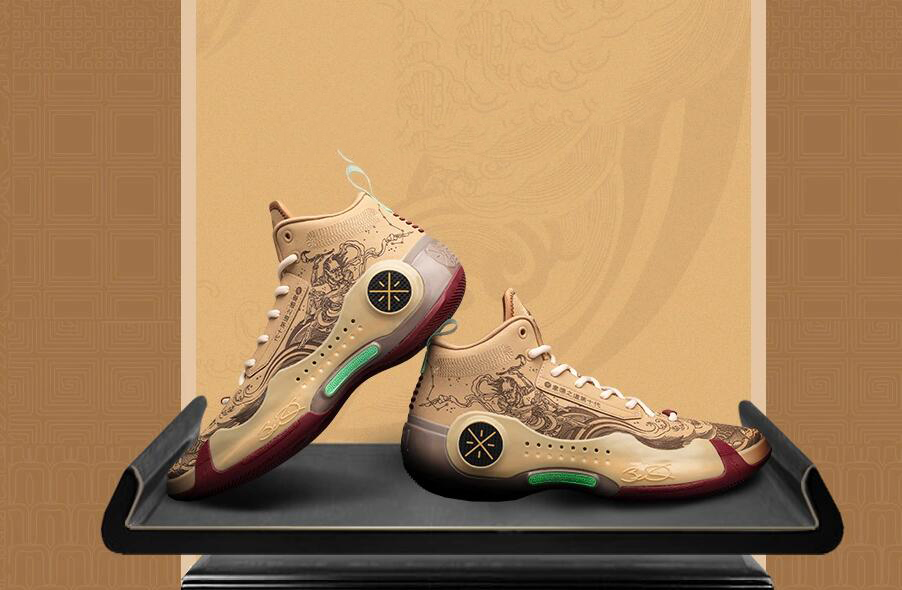 The midsole is composed of full-palm lightweight technology, which increases the thickness of the front and rear palm midsole materials. The outer layer is protected by TPU to protect and promote the effect of the midsole materials.
Li Ning Light-boom Technology
Li Ning Yi light boom technology is an innovative midsole material independently developed by Li Ning. It is prepared by supercritical fluid foaming process. Compared with traditional materials, it greatly reduces the weight of the midsole, significantly improves the rebound performance, and has a longer service life, which greatly improves the product performance.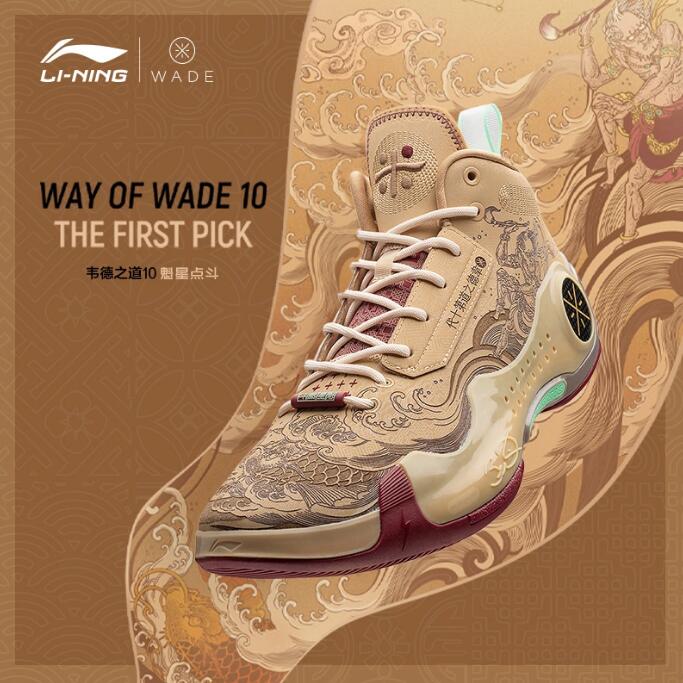 Li-Ning Wade 10 'The First Pick" – 魁星点斗  men's basketball shoe abas075-26, with milk tea brown as the basic color on the upper, just like the paper color of ancient books, combined with Chinese style printing pattern design to highlight the charm of traditional culture and interpret the strong retro charm; The laser Wade element on the side of the shoe and the 10th generation of "W é I's way" "The text indicates the identity of Wade's way signature sneaker, and the ten character on the heel conforms to the design concept of Wade's way 10. The embroidery design and three-dimensional electric embroidery process are adopted, which have a sense of detail and design. The Wade element on the inside of the tongue is embellished to express the love for basketball. The midsole is composed of full-length Li Ning, with the rebound performance of the forefoot increased by 5%, the cushioning performance of the back foot increased by 4%, and the material thickness of the front and back palms and soles increased to make the keel drop difference As low as 5mm. Provide a better power angle for the foot. With the full-length special-shaped carbon fiber board with 50mm toe cocking height and arch structure at the arch of the foot, the start-up propulsion system is optimized to inject strong driving force into the start-up, provide surging power to attack the whole field, and launch the attack quickly and smoothly.